Life hasn't always turned out the way I expected, but I've learned that some of the best things and greatest lessons in my life were unexpected.
Every daughter wants and needs to hear her father whisper, "I love you!"—three words
that affirm her. . . three words that tell her she matters. A child needs a loving, nurturing, caring mother to make her feel loved. Children should not feel a void, loneliness, and a lack of feeling loved. My journey as a child was the opposite of normal. I grew up fatherless, lonely, and in the hood. https://www.urbandictionary.com/define.php?term=hood
My mother was an alcoholic. In June 2011 I lost my beautiful mother to cirrhosis. Life can feel tough sometimes, but I truly believe that difficult moments can lead us to something greater. And i know that we can turn pain into purpose.
I was raised by my grandmother. I never had the love from a father in fact I didn't meet him until I found him when I was 28. I got my first job at 15 to save money to go to community college. When I graduated high school, I worked full time in order to pay for school. I loved working and being able to support myself, but I also know that it made my education take a backseat. I loved my mom she was amazing at her best, but she struggled with depression and addiction. When she got sick with cirrhosis, I had to quit going to school in order to take care of her until the day she passed away when I was about 27 (2011). I have experienced firsthand what the social and economical injustices are suffered by the children and family of alcoholics. I have come to recognize and value the strengths & resiliencies I have developed by necessity to survive the neglect and abuse I suffered during my childhood.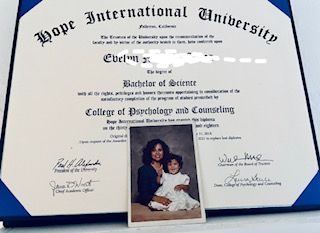 It wasn't until 2016 that I decided to try. I was accepted into an online undergraduate school and my dreams were becoming a reality. I was working full time time, raising a little girl (as a single mom) and doing the online program at night. I was taking three classes every eight weeks, determined to finish what I had started. Taking all these classes and working full time did make my grades suffer and it lowered my GPA. One of my biggest challenges was trying to keep up with so many classes and feeling guilty about not being able to spend quality time with my kids. I also got pregnant in 2017 and gave birth to my little boy in May 2018.  It was hard doing homework and studying while working and being pregnant. I remember the difficulty of taking quizzes while I was in early labor and how difficult it was to start homework again just days after my son was born. Although it was rough at that time, I was extremely motivated to carry on with my education. I did most of the work and studying while the baby slept and while my daughter was in pre-school. I don't begin what I don't intend to finish. I am a first-generation college graduate. I made my mom proud that day in 2018.
My hope is that I can inspire my kids and set a good example for them. I will continue to model what dedication and sacrifice looks like. It is possible to balance being a mother and a professional but it's difficult.
Get your kids to school, so they can get an education

Get a degree, and take a vacation – Too Short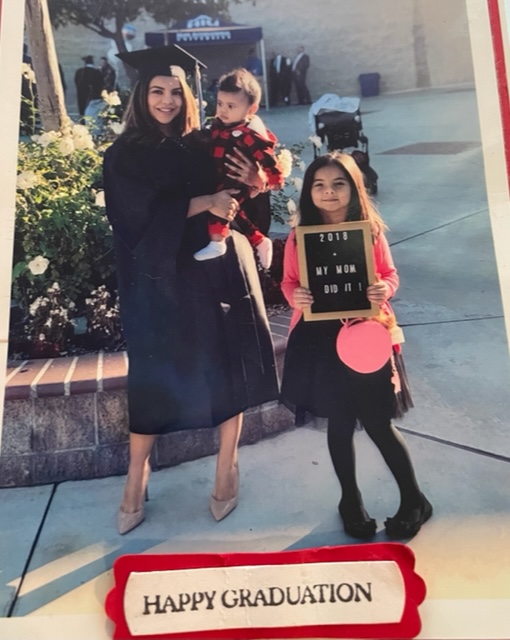 All the adversity I have had in my life was met with a positive outlook and a never give up attitude. I have the ability to overcome obstacles and I have learned to stay committed to my goals. I am resilient, confident and I truly believe that with God all things are possible. I always lean on Him when I feel weak and He comes through for me.I know it's bizarre to love Jesus and Hip Hop but that's just between me and God. He understands me.
Just remember that you can do whatever you wanna do and be whoever you wanna be, if I did it anyone can do it.
I hope someday to be able to contribute something for the good of our society . Someday is now.
Thinking about getting a Master's degree. Still thinking about it 😜 I can't believe it's been 4 years since I graduated! Time Flies. Thanks for reading ! Have a rad day!
Okay so I have shared something with you now share something with me? 🤭https://conqueralcoholism.org/share-your-story/