Nothing connects us more than music
I'm huge believer that music has the power to change lives. The all-powerful DJ gets the car rides poppin and can turn a bad day into a good one. Has music ever changed your mood?
https://www.siriusxm.com/channels/pitbulls-globalization
His empathy is obvious and I'm so thankful that he shared his story with me. Thank you Dj Oso. Deeply grateful. https://www.instagram.com/djosomighty/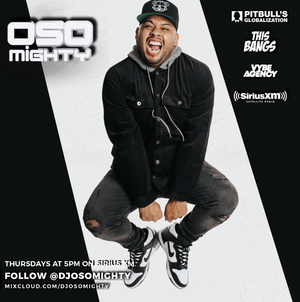 Why do you think sobriety is so hard? How do you stay sober in the nightlife?
I think it's hard because we grow up being told alcohol is a sign of happiness. Meaning alcohol is a celebration thing. Birthday parties, graduations, weddings and anything that has to do with celebrating. 
I stay sober in nightlife because of my relationship with God. I try to pray on my way to the clubs and party's. I remind myself how blessed I'm and there has been times the devil try's me so I pray at the club. I close my eyes and ask god to protect me and it goes away. 
What were some of the reasons you became addicted ?
My grandmother killed herself while under the influence and a year later my grandpa drank himself to death. Those were the two key things that started my drinking journey. I was raised by two amazing parents that broke the generational course. My dads dad was an alcoholic and my moms parents were alcoholics. I grew up knowing that alcohol was bad but when those two events happened I started to lean into not wanting to be home. I actually didn't drink for a whole year after my grandmother passed but eventually I started. Being home was depressing. My mother was always sad and my dad was always away working. I just liked being with my friends and once I started drinking I liked the feeling of thinking I looked cool doing it. Eventually I would get a high from it. Like hey that's Sal the guy that can drink this much and is so fun. What I know now is I was suppressing my pain. At the time I knew I had to slow down but I met a girl who had alcoholic parents and well she like to drink too. All we did was party and get drunk and fight lol. There was a point within those years of dating her that I knew I was becoming an alcoholic. I got two DUIs, became type 2 diabetic and a lot of other health issues as well as so much drama. You just keep lying to yourself until one day you just kinda give up. Eventually I got a third DUI. I had so many legal fees and had to get a breathalyzer installed in my car for 3 years. Then after all that is when I came into a realization that I might never be able to stop drinking. So I just kept drinking. 
For anyone that was trying to help you become sober what did they do or say or didn't say that helped? Is there anything anyone could have done differently that would have made it better?
The people that tried to help me stop drinking were my parents and uncle. My uncle has been sober for what I believe is now over 20 years. (Don't quote me it's the middle of the night/morning so don't remember) My parents would literally cry to me but I was possessed. My uncle knew how it worked so he would just say little things like "hey Mijo I'm here if you need me". Alcohol is truly possessive. No one could tell me anything because I would hear them but alcohol lived in my mind 24/7. Now that I'm on the other side I truly know how possessive alcohol truly is. I wasn't a casual alcoholic I was an abusive alcoholic. Meaning I drank to black out. (I learned all this in my DUI classes.) I didn't wake up & drink but I drank every night to black out. So no one could help me because alcohol was still my number 1 priority. 
Teen substance abuse is a giant problem. In order to prevent teens or young adults from developing a substance abuse problem what do you think are the major tools in accomplishing this ?
Honestly my parents fell into a bit of depression when those tragedies occurred so as much as they were always there for me those first couple of years after the tragedies they kinda stopped paying attention. They were their but not. They asked if I was good and what I was doing and of course I lied so they just believed me. If it wasn't for those tragedies and my parents being depressed I think I would have never got that lost. My parents are true angels but this world is broken and bad things happen to good people. Took me 10 years to understand that. 
My secret dream is to be a worship singer? What's your secret dream?
Hmmmm honestly I don't have any secret dreams. Everything I dreamed about I talk into existence. 
What healthy habits have you created for yourself that makes you feel good?
My healthy habits are running 6 days a week. I try to eat well but it's hard lol 
What is your calling in this life?
My calling in this life is what God wants it to be. Which I think is to share my testimony and let the world know God is real. 
I'm not a fan of how Hollywood glorifies Narco's & alcohol especially among the Hispanic community. We are better than that. In your opinion how do you feel about this situation and the roles we are given in Hollywood movies / shows?
I feel that Hispanics are portrayed like how you explained it because it makes sales. Bad always tends to sell more. I believe everything good takes time to grow but lasts a lifetime. Like the George Lopez show lol.
Which lessons in sobriety have taken you the longest to learn?
The biggest lesson that took me the longest to learn had to be patience. I relapsed because I didn't have patience. 
What's the purpose of forgiveness in recovery ?
The purpose of forgiveness in sobriety is everything. No need to hold on to anything. The reason people became addicts is pain. All that pain held inside is what we are trying to suppress.
What's the one thing you can't do because you're famous?
LMFAo! I'm not famous and never want to be. 
What advice would you give younger people that are trying to become a DJ's and get on XM or the radio?
My advice for up and coming DJs, never ever give up. If you truly love DJ'ing like I do. 
If there is no way to intellectually make someone understand your belief in God. How do you do it?
I just tell people the truth about my relationship with God. I'm not religious. God is my everything. I'm living proof that God is real. How? Because I was a lost soul for 10 years (maybe even more) I didn't have faith and stopped believing. When I stopped drinking I didn't look for God. I still didn't believe. God came looking for me. That story itself is beyond amazing. I'll share with you someday. 
Is it possible to pursue a career in entertainment while displaying love for God? Do you ever feel that judgement ? If so how do you deal with it?
There was a period during the last 7 years of me being sober that I was really confused about what I was doing. I loved DJing but found myself questioning what I do because it's not like I DJ at church. I talked to a few of my church friends and they help me understand that what I do is not for the sinful part of it. I truly love DJing and even though the music I play at times isn't the best I don't truly believe the things that are said in those records. There are a few records I don't play no more though. Also I've been so blessed and touched by God that I don't care what anyone thinks. Gods plan will always prevail no matter who or what try's to stop it. And I live through those kind of moments all the time. Being a consistent good person even though you think you see sinful people wining is truly God making you wait while God is moving pieces around to make your place at that table a permanent seat. Sinful people who cut corners are only there for a short time. 
According to the Centers for Disease Control and Prevention, as of June 2020, 13% of Americans reported starting or increasing substance use as a way of coping with stress or emotions related to COVID-19. Overdoses have also spiked since the onset of the pandemic. What are your thoughts on this?
I believe a lot of people turned to drugs and alcohol during the pandemic because work was probably what they used to suppress the pain they carry. People don't like dealing with their pain so they use other stuff to try and cope with it. 
Do you want to mention your church or Na ?
I go to discovery church in Bakersfield CA 
Last question is: Is there anything that you want to talk about or say that I didn't mention?
I think we covered everything you wanted to ask me but I did celebrate my sobriety birthday, which I call my new life start date this Monday April 2022.
You know what there is one thing. Getting sober is not easy. Dealing with pain and trauma you have suppressed for years and even decades is not easy but I promise you that when you start on this journey of being sober and healing it's the greatest thing ever. Mend your relationship with God and he will handle the rest. Mind, body and soul is what life is about.
Thank you for sharing ❤️ Thank you for reading